Bob Bradley Sr. , long time member of the Mountaineers, passed Saturday 13 March 2010.
Sr. was one of the original Old Fart Racing Team members. Sr was his happiest when he was racing his race rig. He had so many good friends. He will be sorely missed.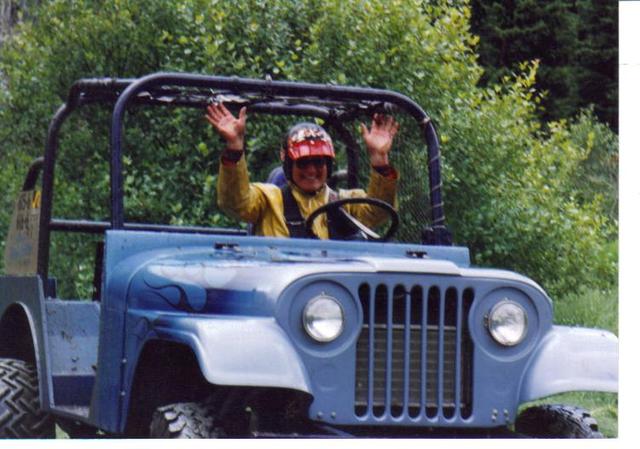 Services will be Saturday, March 20th at 2:00 at Dokken Nelson Funeral Home
Robert L. Bradley(1929 - 2010)
Robert Leonard Bradley Sr., 80, a Bozeman native, passed away March 13, 2010, at Bozeman Health and Rehab Center. He was born on Dec. 27, 1929, in Bozeman, to James and Florence Nixon Bradley. He grew up on the family farm on South Gooch Hill Road and attended Rea School and Gallatin High School.
After graduation, Robert married Alice Akens in August 1950 in Bozeman. They had three children: Robert Jr., David, and Lori. The couple later divorced.
In October 1969, Robert married Myrtle Swanson in Bozeman. Together they raised Marilyn and had a son, Michael.
Robert was a diesel mechanic and an over-the-road truck driver. In the 1970s, Robert and his brother, Curt, formed Bradley Brothers Trucking and Bradley Repair in Belgrade.
Robert enjoyed building and racing his Jeep. He was a member of the Bozeman Mountaineers Club and the Montana 4 x 4 Association.
Robert was preceded in death by his parents; his wife, Myrtle; brother, Curt; and sister-in-law, Susan.
He is survived by sons, Robert (Fran) Bradley Jr., David Bradley, and Michael Bradley; daughter, Lori McAllister; step-daughter, Marilyn (Ed) Cox; brothers, Raymond (Betty) Bradley, and Paul Bradley; sister-in-law, Betty Bradley; six grandchildren, Jeff Bradley, James Bradley, Johnny Cox, Aubrey Bradley, Deb Hawe, and Alan Aznoe; and eight great-grandchildren; and numerous nieces and nephews.
Memorial services will be held at 2 p.m. Saturday, March 20, at Dokken-Nelson Sunset Chapel, followed by a reception in the basement of the Bozeman United Methodist Church. Robert will be laid to rest next to his wife, Myrt, at Sunset Hills Cemetery.
A special thank you to Dr. Harris; his nurse, Barb; and the staff at Bozeman Health and Rehab.
Donations may be made in Robert's name to the charity of your choice.
Arrangements are in the care of Dokken-Nelson Funeral Service; www.dokkennelson.com.
Published in Bozeman Daily Chronicle on March 17, 2010